Welcome to my web site.
Exhibitions & Shows | Make a Donation | View cv | Jonathan's YouTube Channel | All Things Possible on FaceBook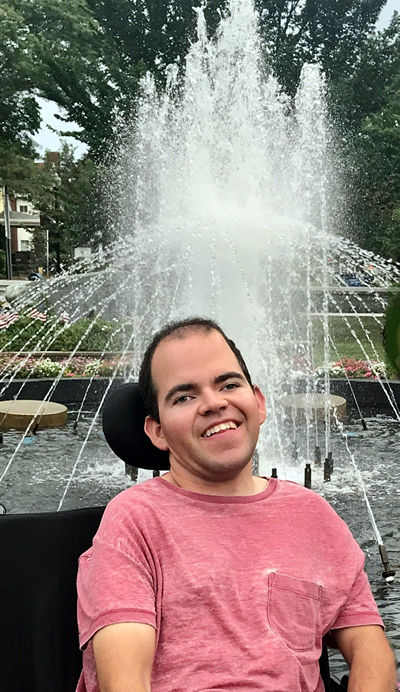 My name is Jonathan. I was born in 1993. I have quadriplegia as the result of an illness when I was an infant. I've always had family and friends in my life who recognized my abilities. The biggest challenge is not being able to speak verbally, but I've learned to speak my mind in ways others can understand. I communicate in various ways, including the use of the Tobii Dynavox eye controlled speech generating device.
I enjoy photography and getting outdoors to appreciate nature and the changing seasons. In 2013, I started capturing photos using a switch-adapted digital camera that was mounted on my wheelchair. The camera had a switch attached to a button, which I could tap using my hand or head to take shots. My photos impressed a lot of people. Friends encouraged me to use my photos to make and sell cards, so in the Fall of 2014, I acted on the idea and sold cards at a local craft fair.
"My goal is for my photography to brighten another person's day."
I'm now using a Canon EOS Rebel T6s DSLR camera that is set up on a tripod. The camera is not adapted with wires or switches. My friend took a sturdy eyeglass case and altered it to act as a mount for the camera remote. The camera remote is positioned on the inside of the case. A large button with a built in pin was secured on the top of the case so that when the case is closed, the pin lines up with the remote button. This makes it easier for me to tap the button, which activates the remote. Another option for me to capture photos is with a wireless connection between my camera and tablet.
Music is my life. My parents tell me that since I was a baby I've loved music. Even though I have a severe physical disability, they believed that like my younger brother and sister, I had a natural talent. Usually what you enjoy most is where you can find that hidden talent. Music became part of my Vision. I was asked at a young age if I wanted to someday write my own music. I studied music composition and collaborated with Tom from U Mass Dartmouth who was willing to help me. It took over a year to compose my first song, "Family", which was debuted in 2013. You can watch the video, featuring performances by Tom, TJ and Paige, and lyrics by Ronnie Vieira.
So that's enough about me!
You now know why my shop is named All Things Possible. I hope you enjoy my photographs. I offer my photos for sale online and also at a number of events and galleries. I look forward to meeting you at one of them.
Thanks for visiting!
Jonathan
---
Pictures worth more than words for this local photographer (WPRI.com, Street Stories by Walt Buteau, July 19, 2019) Includes a video of Jonathan.
Expect Success: Celebrating Achievers – Jonathan Huggon (The Arc of Massachusetts, Febrary 5, 2018)
All Things Are Possible by  Lynne Sullivan (Taunton Gazette, February 20, 2017)
An article about Jonathan Huggon by Rory Schuler (Taunton Gazette, February 14, 2014)
Find me on Facebook by clicking here.